Matchstick Viola
May 2017
This matchstick viola was collected by József Birinyi, who, when entering it into museum inventory, recroded its provenance as follows: "According to its maker, this viola, the work of OSZK-licensed Roma tavern musician Lajos Gagyi, was constructed in 1987 (the instrument was first played on 28 November of that year) from approximately 300 boxes of matches. A self-taught instrument maker who repairs and builds violins, violas, cellos, and basses, Gagyi decided to produce a matchstick viola after spotting a photograph in a Hungarian women's magazine (Nők Lajpa) showing a Polish instrument maker with his own matchstick violin. To the amazement of diners and fellow musicians alike, Gagyi then proceeded to play the instrument at restaurants and wedding celebrations in and around Miskolc on a regular basis. The existence of this unique and curious instrument was originally brought to the collector's attention by ethnographer Péter Szuhay."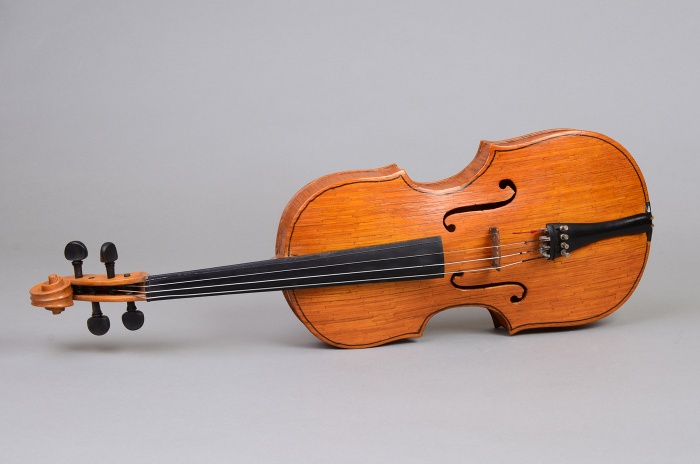 Lajos Gagyi was born in 1927 in the north-eastern Hungarian village of Boldva. His father, also a musician, played the bass, as did his Lajos's brother.
Gagyi's wife, Etelka Káló, daughter of a family of musicians from Szendrőlád, is said to have remarked when showing off her pantry in Edelény in 1992, "we are both crickets and ants: my husband is the cricket who makes music, and I am the ant who fills the pantry for winter". Their only son Kálmán was born in Edelény in 1954. Recently, I had the opportunity of speaking with the younger Gagyi's wife, Mária Julianna Siroki, a former resident of Hangács widowed since 2011, as she recounted stories of her family and father-in-law. As Siroki recalls, Gagyi played gigs primarily in the Nyírség region and thus worked in Budapest groups only rarely. He resided more than two years in Nyírábrány, and even after that frequently spent weekends away playing weddings and fairs in Nyírbátor and Nyíradony. After the Museum's purchase of his original matchstick viola, the "bread-winning" instrument he used most regularly, he immediately set about to produce a second, identical piece. The latter he then used for several years before it was stolen from the overhead rack on a train ride home from an all-night wedding celebration. After that, he did not make another, but ceased playing music altogether. Gagyi died in 2005 and was seen off on his final journey by a group of his fellow-musicians.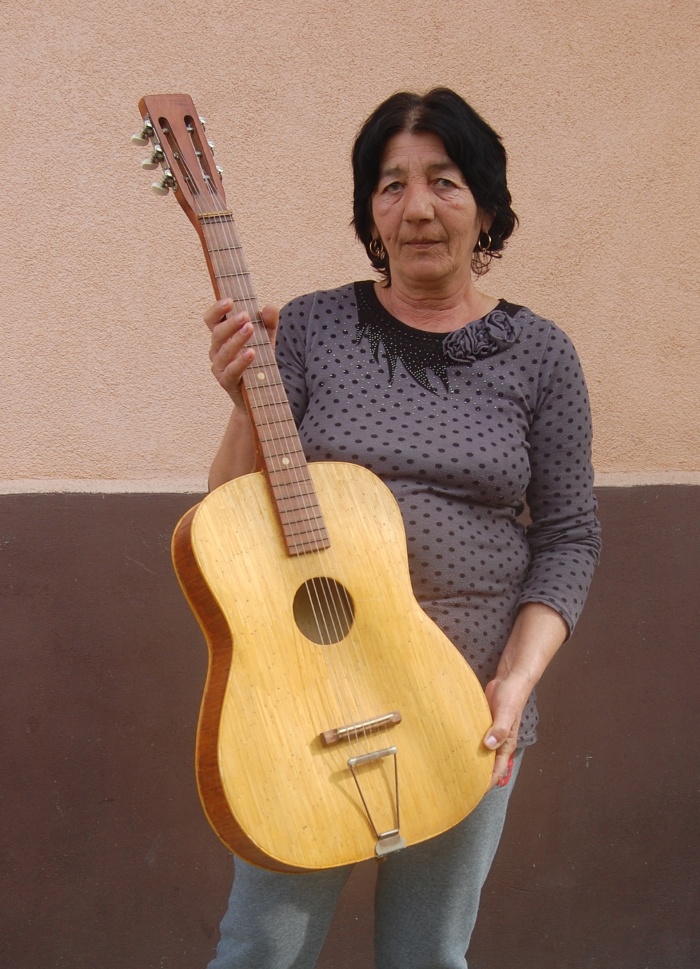 Still, the passion for instrument-making lived on in Gagyi's family. His son, who served two years' compusory military service as was the norm for the time, had occasion to attend a crafts circle as part of his overall duties. Of his own three children, the first, a boy named Lajos, was born in 1972 and, like his father, studied crafts during his course of military service (where – as was previously the case among miners and prisoners – it was fashionable to occupy participants' time with work requiring considerable patience: the construction of models, matchstick Eiffel Towers, etc.). As both a child and an adult, Lajos had already witnessed construction with matchsticks by his grandfather, and so, following the elder's example, decided while living in Canada, where he had gone to "try his luck," to build himself a matchstick violin. This was followed upon his return home in 2004 by a guitar. The latter instrument is now in the keeping of his mother, who has safeguarded it since her son's early death. Lajos Gagyi's original plan had been to recreate his great-grandfather's and grandfather's basses, as well, though this particular desire was never realised. His two brothers, Béla Sándor, who remained in Edelény, and Róbert, who now lives in England, did not follow in their grandfather's footsteps.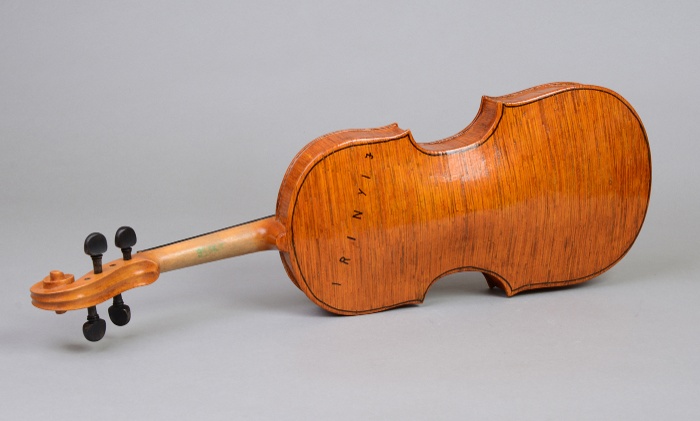 The description of the instrument as provided by the collector: "The piece is constructed of matchsticks, the front plate in two layers and the back plate and sides in three layers. The sticks are held together with glue. The neck and scroll are made of sycamore, while the bass bar and sound post are of pine. The four tuning pegs, fingerboard, bridge, fine tuners, and the tailpiece are all factory-made. The surface of the body is treated with a yellow-gold lacquer. The edges of the front and back plates have been painted with black striping in imitation of inlay work. The F-holes are regularly formed, though the body is narrower than that of a normal viola and is slightly asymmetrical in the vicinity of the neck. The arches of the waist are also slightly flattened. Tuning: C-G-D-A. Readable on the upper portion of the back plate in black block letters is the surname of the inventor of the matchstick: 'IRINYI'."
Péter Szuhay